Antler Hunt Ranch contains a mixture of wooded and open areas, which are ideal wild turkey habitats and make for superb Texas Turkey Hunting. These areas, while individually important to the turkeys, also provide the added benefit of large amounts of edge habitat. Edge habitat is useful for escaping from both predators and the heat. Wild turkeys prefer to roost in tall hardwood trees that have broad canopies with many horizontal limbs, such as the huge post oaks that adorn the ranch. A healthy water supply from deep tanks on the ranch supplies all the animals.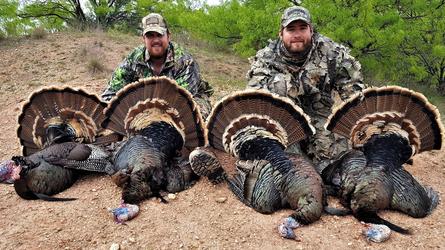 Antler Hunt Ranch's success is second to none; that's why we never try to overbook our Turkey Hunting Season. We understand how long and when our optimum hunting season should end and don't ever want to take someone on a snipe hunt. Today's technologies of trail cams and, of course, scouting give us an estimate of how many spring wild turkey hunts to sell. Most all turkey hunts are from ground blinds located near water and food sources. We highly encourage our hunters to do their own calling if needed, as guides take a back seat only as another set of experienced eyes and ears to assist.
Whether you're a seasoned vet completing a wild turkey slam or coming out to take that first bird, please contact us to book early to enjoy a hunt of a lifetime.
Rio Grande Wild Turkey Spring Season Hunt Package:
$500.00 for a Gobbler or Bearded Hen
Please add a daily guide fee of $125/day on all hunts
No lodging or meals included, plan to hunt all day.
Lodging can be available for an extra fee.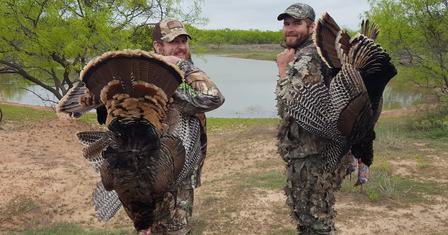 Visit our Harvest Gallery and Trail Cam Gallery to enjoy viewing pictures of our past successful hunters and the wild turkey here at Antler Hunt Ranch.
"*" indicates required fields