Welcome to Antler Hunt Ranch
Welcome to Antler Hunt Ranch, where we offer the best Texas Hunting. Enjoy hunting for a wide variety of trophy game, like Texas Whitetail Deer, hogs, Rio Grande Turkey, and more. With the completion of high fencing and opening to public hunts in the fall of 2012, the ranch prides itself on a high success rate. Offering all guests a 100% shot opportunity with a near 95% harvest ratio. We invite you to come out and be a part of our hunting family. Please allow us the opportunity to make your dreams come true. We offer a great hunting experience and a comfortable stay while you're with us as a new or returning guest. AHR has been carefully managed throughout the family's 60+ years, with improvements being made over time to both property and habitat.
Antler Hunt Ranch is located in Coleman County in the Cross Timbers Region of Texas. The largest major airport is in Abilene, about an hour away. Please contact us to make arrangements for pickup. The ranch has a nice range of elevation changes, water sources, and vegetation all necessary for healthy wildlife. Mesquite, Post Oak, and Cedar are the dominant large trees in the area. We have and will continue to improve the genetics and the overall quality of our deer population by introducing quality whitetail genetics from top breeding operations. Our intensive management and feeding program is producing antlers of excellent tine length and mass.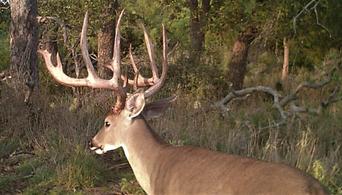 We offer guided high-fence and free-range deer hunting. We can accommodate all hunters, from individual/ family to even corporate hunts.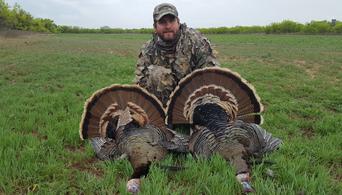 We offer 2-day guided and semi-guided turkey hunts during the Spring season. Turkey hunting usually occurs in a mixture of wooden and open areas.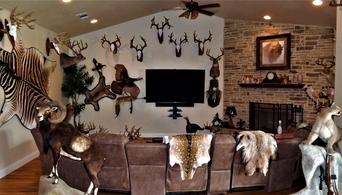 The lodge has 4 individual bedrooms with their own private full baths, a Great Room, a large dining area, and a beautiful stone fireplace.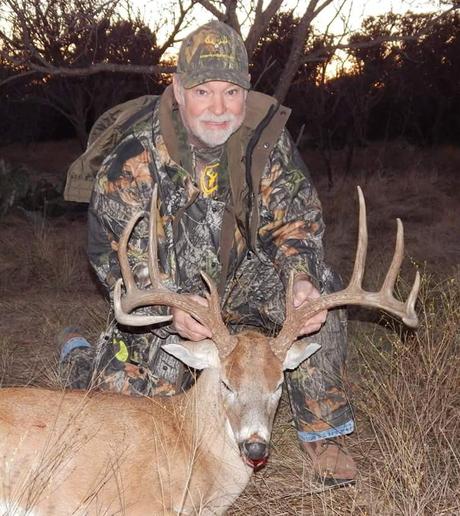 Stephen Kemp
Owner of Antler Hunt Ranch and raised a Ballinger Bearcat. I high-fenced the ranch for better management of the deer herd in 2010 – 11 and just recently completed release pasture on June 3, 2017. We continue to put great effort into producing trophy large body frames and antlers. The 2016 season produced harvested bucks over 200# and scores of 237".
Going back in time to 1967, I harvested my first buck. An 8 pt. not making 100", and even that could be a little fish story if he made it that big, but did have antlers and still have that trophy. I sincerely hope to have you join me for the hunt and experience you seek. Please allow my crew and I the chance to show you a great time at a place I am very proud to show off.
Other things about me – Raced at Daytona in ARCA Series. Flew spray planes for over 5000 hours and still fly today. Have driven dragsters at 1/8 mile tracks in the 140 – 150 mph range. Raised horses and cattle, and now deer, full circle.
Please Call Me anytime with questions and to book an off-season trip to come check us out. Thank you, and looking forward to your hunt, Stephen Kemp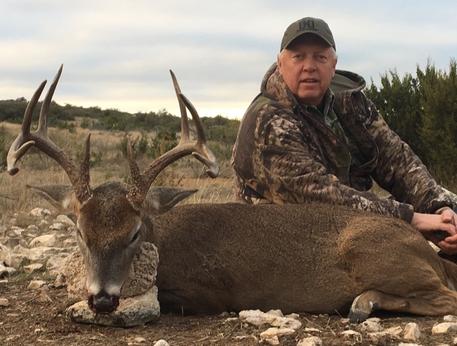 Mike 'Big Mike' Walsh
VERY married to 'The Boss' aka Sandra for 30 happy years! My one and only real hobbies (vices) are guns and ammunition handloading. All my hunting has been with ammo that I have loaded. Factory ammo, while being very good these days, none has ever fouled any of my barrels! I spend as much time in the field as possible and have hunted and guided for Whitetail and Exotics throughout west Texas. Among my other experiences 'The Boss' and I have enjoyed two great African safaris. I am currently employed as an instructor by Team Texas, the NASCAR driving school, at Texas Motor Speedway. Prior to the race cars, I was a sales and marketing manager in the micro-imaging industry at Kodak and Fuji Film.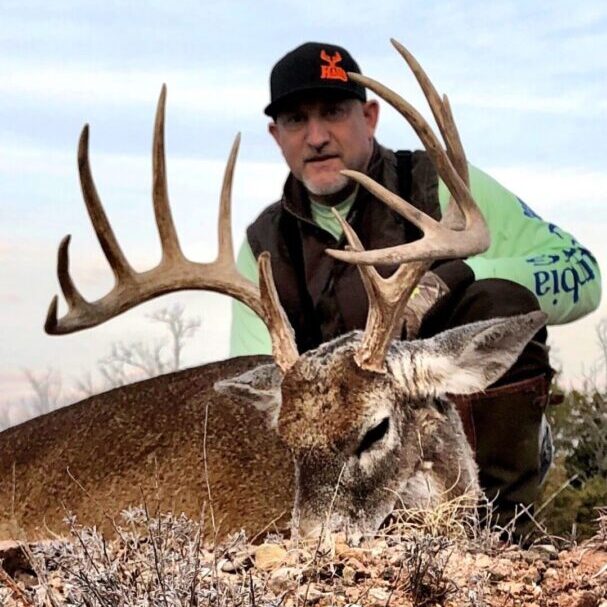 Paul Snyder
Texas Born and raised, Paul began his 50 year hunting career with his dad and granddad when he was just 8 years old. This love for the outdoors would lead to a passion that he has since shared with his own son, his nephew, and his granddaughter. For the last 12 years, he has furthered that with his ability to share these experiences with others through guiding. With his abundant knowledge, Paul is able to customize and tailor each hunt to the specific needs of the hunters he works with. From preparation before you arrive, to making sure you leave with your ideal trophy, he is sure to make this hunting experience one you will never forget.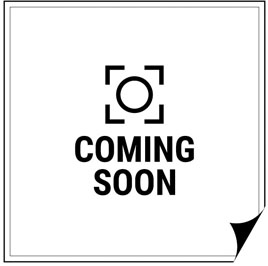 Dawn Singh
More info coming soon
...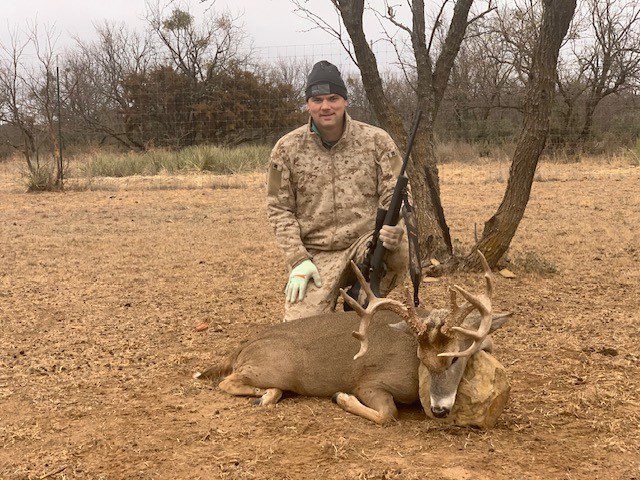 Tyler Wilson
Tyler "Ty" Wilson has been a friend of the Kemp family for over 25 years.
Originally from Alvarado, Texas. Ty grew up training and showing paint horses. Always an avid outdoorsman and adventurer.
Ty joined the U.S. Navy after college and became a Naval Aviator flying F/A-18E/F. After 13 years of active duty he left the U.S. Navy to fly the B-1B for the U.S. Air Force Reserve out of Dyess AFB
Ty is currently a first officer for American Airlines flying the Airbus A-320 out of DFW airport. When he's not flying he is probably hunting or team roping somewhere in Texas.
I'm looking forward to being your guide!!
Interact With Us Live on Facebook
Contact Form
"*" indicates required fields